23rd Annual On Property Sale
Anden White Suffolks, Kerangie Suffolks & Anden Ultra Whites

Our 2018 Ram and Ewe sale will be held on Thursday October 4th, 1:00pm EST
Auctions Plus will be operating for Lots 1-62
Offering:
29 specially selected White Suffolk Ewes
24 specially selected White Suffolk Rams
81 White Suffolk Flock Rams
60 Anden Ultra White Rams
12 Suffolk Rams
9 Specially Selected Suffolk Ewes
View 2018 Selected Sale Lot Videos
Flock Health
Ovine Johne's Disease MN3 (2002) Status (VS 1212)
Ovine Brucellosis Accredited Free (No. 2063)
All sheep  are Glanvac 6 with B12 vaccinated, drenched & Avenge backlined (Aug)
Footrot Free
2017 On Property Sale Result
29 specially selected rams sold to $11,000 & averaged $3588. 81 flock rams sold to $1600 & averaged $1235.  35 stud ewes sold to $1400 & averaged $791.
Thank you to all bidders
>> Download 2017 Results
>> Download 2017 Sales Report
2016 On Property Sale Result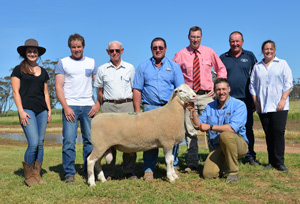 Joel Donnan holds the new $68,000 record priced White Suffolk and all meat sheep
breeds ram.
He is surrounded by key participants; Lauren Donnan, purchaser Leroy Hull, John & Andrew Donnan; Elders stud stock auctioneer Ross Milne; purchaser Geoff Hull, and Dentia Donnan.
>> 2016 Sale Report and Photos
Past Sale Reports
>> 2016 Sale Report & Photos
>> 2015 Sale Report & Photos
>> 2014 Sale Report & Photos
>> 2012 Sale Report & Photos
>> 2011 Sale Report & Photos
>> 2010 Sale Report & Photos
>> 2009 Sale Report & Photos
>> 2008 Sale Report & Photos
>> 2007 Sale Report & Photos
>> 2006 Sale Report & Photos